Meopham Country Club – The chairs and tables were delivered on Friday as promised and we are really pleased with them.
Tina – Home Group – Just a short note to say how lovely the furniture looks. The workmanship is fabulous, the residents have been very complimentary. You and your team have done a great job.Thank you for all your help.
 Thank you for your service in helping us refurbish our canteen, we are very pleased with the outcome and will most certainly be recommending your services.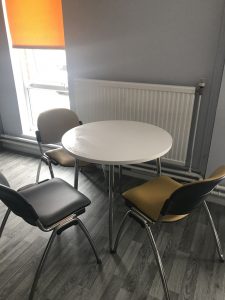 Lucy – Home Group – 

Hi Graeme, Just to say a very big thank you for the chairs. They have made such a difference to our community room and the residents are delighted with them.
Care Corner –

I wanted to email and say that my customer is really happy with the chairs, she said they look gorgeous and so I wanted to thank you and Ace Furniture for all your help and support with regards to this matter.
David – Stowmarket Golf Club

The chairs look fabulous, the colour and fabric combinations work really well. 

        Thank you for all your help and patience in this matter, it was very much appreciated.
Paul – Ross Sports Centre CIC

Just a quick note to say a massive thank you, the work your guys did was outstanding.

The seats were 35 years old that we inherited. As a CIC we have over last 4 years been on a programme of refurbishment of a severely outdated and in state of poor repair building inherited from our local council on a long term lease.

The seats being replaced was the big project we have been working too, they look absolutely amazing and brought a new lease of life to the building. We have a had a fantastic response on social media to how the centre looks now with the refurbished seats.
Dave Bravo – Cowplain Social Club

The furniture looks good and there was not one mark or damage anywhere so please congratulate your team on the quality of manufacture and service.
Clitheroe Royal British Legion

The furniture looks great. thanks. We are celebrating the refurbishment on 28.04.17. Thanks Graham for your efforts. Paul
West End Social Club

Just to confirm that everything was successfully delivered today and is now out in the club, which is looking very smart. We were particularly impressed with the performance of your team that installed the bench-seating; the end result is very fine. We are also very impressed with the match of the wood to our sample ……which perfectly matches our table legs.
Stowmarket Golf Club

The new furniture looks superb and we have received many favourable comments from members. Attached is a photograph which gives you an idea of the environment we have created.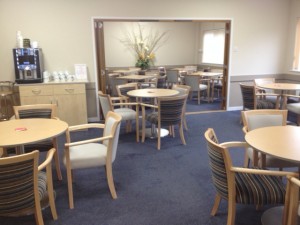 Pampered & Polished Thanks very much for the salon chairs they look great! Really pleased with them.

The Mandeville Hotel The table looks fantastic, so fantastic that we now want to order a 2nd, do you think that this would be possible. Kind regards, Neil Bainbridge, Director of Sales and Marketing.

Stowmarket Golf Club The chairs have arrived and look fabulous. Your delivery guy was very pleasant and obliging.

Terry – Interim Ward Manager Just to let you know our new furniture is fantastic. Kate: thank you for all of your help with this. Thank you.

Adrian Social club, Leeds just like to say how impressed I was with the way the team worked and would have no problems in recommending your company and if you ever need a customer to ring me please feel free to give them my number.. On behave of the Committee and myself we would like to wish you all at Ace a merry Xmas and a prosperous New Year. Regards Jim

Graeme we have all the furniture for both venues now and it looks smashing. I am sure the students will be pleased with what we have done when they return. I am just keeping my fingers crossed that it still looks as good after freshers week! Cheers Laurie

Westminster College Please pass on thanks to the team – we unwrapped the Assembly room furniture this week and it looks lovely, the coffee tables are beautiful.

The Ashgrove Clinic Many thanks, and thanks for the chairs – we're really pleased with them. And for the fast turn around too. We'll be needing more office chairs in the new year so I'll be in touch when we know what we need. Kind regards.

Clare College Clare College are delighted with their tub chairs – many thanks

Darren, Burston Garden Centre Graeme at Ace Furniture made the whole process so easy. We were offered helpful suggestions, and everything was delivered on time. Overall, we're really pleased with the service from such a trusted company, and our refurbished restaurant looks amazing. We'll definitely use Ace Furniture again for our future projects, and we highly recommend them.

Diana Patrick Just to say thank you so much for the lovely seat pads – they are superb. Really add something to the environment. Another great job. Thanks

Barbara Stringer Just wanted to say thank you for the prompt service. The Chair Leg Bungs arrived today… and they fit perfectly. Excellent service, and staff very helpful and courteous. Thanks

Buckingham Palace All perfect thank you and the palace are delighted with the new chairs

Alison Page, Northampton Borough Council Thank you for the furniture we are very happy with all of it. Thank you for the excellent customer service received throughout the whole process, everything went very smoothly. Thank you again we will definitely be coming to Ace furniture with future orders. Please thank all of your staff involved with the order.

ACE Furniture have been involved in many of our furniture installations and their help and expertise with our projects has been invaluable. The range of product choice is wide and varied and together with their bespoke service means that they can supply to most environments.

All enquiries are dealt with efficiently and in a friendly manner and ACE ensured that all deliveries meet programme requirements.

The quality of all of their products meets expectations and I would not hesitate to recommend them for future projects.

The university are delighted with the whole thing. The furniture looks fantastic.

I would like to thank you and your staff for a brilliant service, and we will be in touch in the new year.